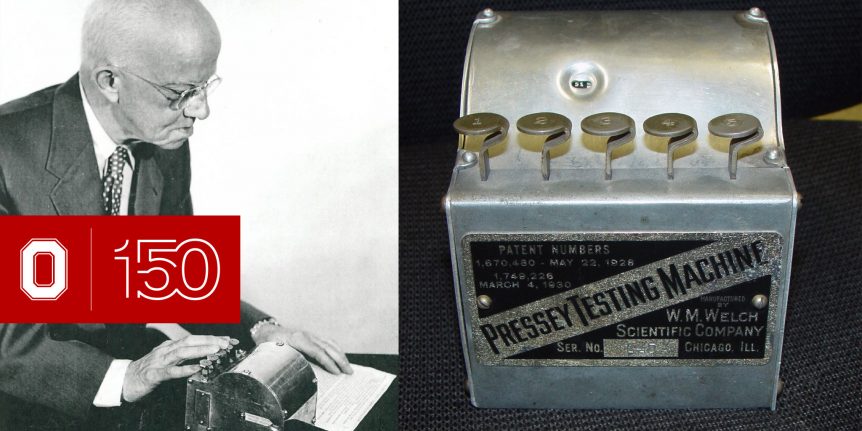 Sidney Pressey, (1888-1979) was a professor of psychology at The Ohio State University from 1921 until his retirement in 1959. As a boy, Pressey was often bored in school, feeling that he already knew the subject material, or could get the material on his own faster than the teacher presented it. This boredom and overall dissatisfaction with traditional educational methods motivated Pressey's innovative work in the field of Instructional Technology and Learning Sciences.
In the early 1920s Pressey developed a machine to provide drill and practice items to students in his introductory courses. He believed that 'the procedure in mastery of drill and informational material were in many instances simple and definite enough to permit handling of much routine teaching by mechanical means.' His 'teaching machine' presented a question and possible answers, and the student pressed a key corresponding to their answer.  In one version of the machine, the answer was recorded and the next question appeared – the precursor to today's standardized testing.  Pressey's great innovation, however, was to fix the machine so that the question remained until the student selected the correct answer, thereby introducing feedback that incorporated an element of teaching into the machine.
Pressey's original machine is on permanent loan to the Smithsonian Institution's National Museum of American History. Teaching machines, however did not come into widespread use until popularized by B.F. Skinner in the 1950s. Pressey moved on to work on aging and was the founder and first president of the Division of Maturity and Age of the American Psychological Association. Pressey Hall, formerly the West Campus Learning Resource Center, is named in his honor.